Photos and details of deceased ex-students and teaching staff of BES School will be published here as and when the information is available.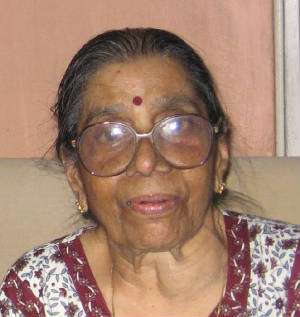 Ms Nalina Nayak
Posted on 16.8.2009
Ms Nalina Nayak, retired Head Mistress, BES School, breathed her last, today, early morning. She was 84. She had been ailing for the past two months and was looked after, at her residence, by her younger brother.
Many ex-students were fortunate to have been taught by her, and carried an ever lasting impression on her good teaching, and discipline.
We, the ex-students of BES School , mourn her death. Those who wish to pay their tributes to Nalina-di, may do so, through guestbbook on top of the page.
Posted on 18.2.2009
Shri Ashok Chatterjee ( Batch 1959, he studied for a few years in BES School ) also known as 'Bishtu-da' passed away on 17.2.2009 after a prolonged illness; he was a paralytic patient for the past one and half years. He was a bachelor and was totally looked after by her elder sister Mrs. Basanti ( Chatterjee ) Arnab ( Batch 1958 ). May God rest 'Bishtu-da's soul in peace.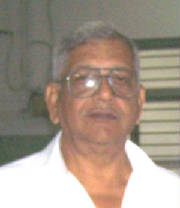 Shri Subroto Roy
Posted on 9.1.2009
This is to convey the sad news I received from Dilip Mukherjee of the passing away of our dear friend Subroto Roy (class of 1956) in Goa on 8 January 5.00P.M.
I have many fond memories of Subroto. We walked to Dadar station together to get on the train home after school larking about a little and singing 'Amra Duti Bhai, Amra Duti Bhai, Ekta Duta poisha pele Beef kine khai".

The image of Subroto I will always have would be him in his gum-boots (Wellingtons), shorts and hat wading through the rain during the monsoons. I usually got wet as I was in my chappals and no umbrella.
Subroto always looked at the bright side of life and had much practical commonsense. And this was so when we met in January 2007 at the school reunion.
I would very much appreciate if you could please inform any of our fellow batchmates that knew Subroto particularly Jhorna Ghosh, Kajoli and Mrinalini Chokroborty - you might know someone that knows their tel numbers.
- Venk shenoy ( Alumnus 1956)
source : TOI 22.1.2009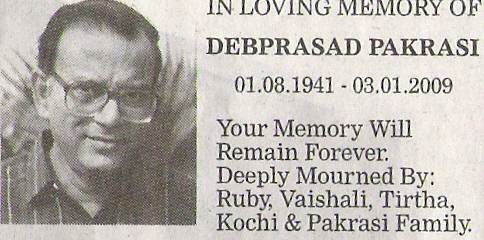 Posted on 4.1.2009

Our beloved Science and Mathematics teacher Shri Debu Pakrasi passed away on 3.1.2009 at his Howrah residence after a massive heart attack. Debuda after a long teaching stint

at BES School, settled in W. Bengal and joined Calcutta Boys School as Head of Department Physics. The older generation of ex-students will always remember Debuda as an excellent teacher, a strict disciplinarian and dedicated himself in various activities of School. Our heart felt condolence to the bereaved family. ( Tributes paid to Debu-da by ex-students have been uploaded in Alumnimail page of the website )
Posted on 4.1.2009

We announce the sad demise of our ex-student from 1973 batch, Shri Anupam Bardhan on 2.1.2009 after an acute attack of Bronchitis at Vashi, Navi Mumbai. Our heart felt condolence to the bereaved family.
Shri Mrinal Datta
Posted on 25.10.2008
Shri Mrinal Dutta, alumnus 1966 of BES School, member of Managing Committee, BES, passed away on 24.10.2008. Mrinal has been instrumental in raising funds for the School when ever the occasion demanded.
Posted on 25.10.2005
Shri Satyen Nandan, alumnus of 1950 batch of BES School,
passed away on 9.10,2008. Satyenda was a meritorious student in School and was batch topper in Matriculation examination.
Posted on 20.9.2008
Shri Shib Kumar Dutt ( Shibuda ) was Drawing and Music teacher in BES School in 1950's and 1960's.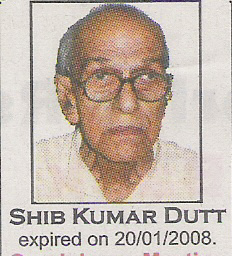 Posted on 2.2.2008
Smt. Swapna Sen
May her soul rest in peace

With deepest regret I have to inform everyone that our beloved class-mate ( 1964 ) and one of the all time smartest beauties to study in our School ( though for a very brief period ), Smt.Swapna Sen left for Heavenly abode on 30.1.2008 after being tormented by stomach Cancer for some time.

On this occassion I can not help but remember Swapna Sen`s gracious presence in our class/school and how her style of dressing in school uniform (tunic and the knot of waist strap/belt) raised our school`s smartness level to those of the then posh Convent Schools of South Bombay.

Though never expressed, everyone of us had developed such immense admiration for her looks,smartness and sophistication and I for one would consider a great previlage and honor on the days when she asked me to help her with her lessons/tasks.

Since she had a very brief association with us as also her different and affluent up-bringing, none of us could develope great intimacy with her, but she always occupied a very special chapter in our school memories.

During the 2005 Re-Union of Batch 1964,

Smt.Pherwani ( Ms.Gandhi ) had mentioned about Swapna being in Pune and since then, we had traced and learnt about her illness through Partho`s sister Ratna .

We understand Swapna was being treated in London during her last days and received the best of attention,efforts and arrangements by her family.

Let us all pray for her SOUL TO REST IN PEACE and the bereaved family members to derive all strength and courage to with stand this great loss and tragedy.

- Dileep Chatterjee 1964 batch mate
Posted on 20.5.2007

Mrs. Leena Mukherjee ( Banerjee ) Alumnus 1956 passed away about 10 days back at Pune. Our sincere condolence to the bereaved family.
Smt. Ella Bhattacarya
Our 1953 Alumnus beloved Smt. Ella Bahattacharya left for her heavenly abode on 13th of this month. She led an active life till the very end. Elladi enthusiastically participated in Reunion 2005 and Reunion 2006 and gave us a lot of encouragement and valuable suggestions. We at Alumnibes will miss her a lot in our future Reunions and meetings. We offer our heartfelt condolence to bereaved family including Supta and Dileepda ( Bhondulda )