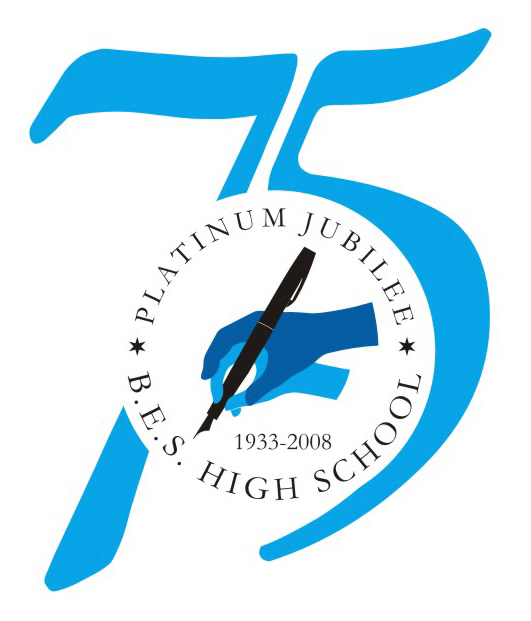 Some interesting emails sent by Alumnibes members is posted here
Uploaded on 5.9.2009
Subject : Reunion of Class of 1956
Attached some photos from the reunion of the Class of 1956 held at the home of Jhorna Ghosh (Sircar) in Andheri. The group adjourned to the IISCON hall for a sumptuous lunch and singing of old school songs.
The arrangements by Soumen (Jhorna's son) and the warmth of his family made the meet truly memorable. The younger members of the family made us all feel a lot younger than our three scores and ten and doubly enjoyable and I am sure Jhorna is proud of her family for organising the event.
The photos were mostly snapped by Dilip Mukherjee - the only other old boy apart from me. The photos include Alokona Dhar (Roy), Jhorna Sircar (Ghosh), Kajoli Ghosh, Mrinalini Chakraborty, Chobi Bose (Ghosh), Dilip Mukherjee and myself. The younger faces are those of Soumen and family (Jhorna's son) and sister of Chobi.
I had not seen Chobi since last day at school in 1956 but had no problem continuing with our argument interrupted by 53 years. She was a sprightly sharp-witted teenager those days and remains so today.
Regrettably one other classmate we could contact Bijoya Bhattacharya was recovering from eye surgery in Kolkata and was unable to attend. Others we could not contact included Leela Banerji, Shiboprosad Sircar and Dipti Dostidar (Mitu).
You may wish to insert some of the photos on the alumni website.
Best wishes.
Venk Shenoi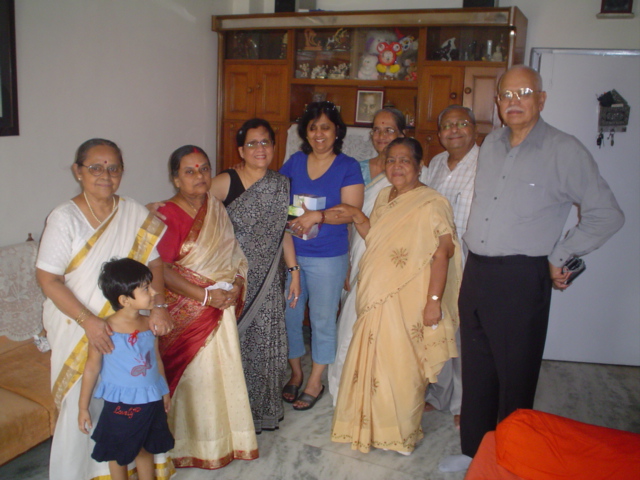 Reunion 1956 Batch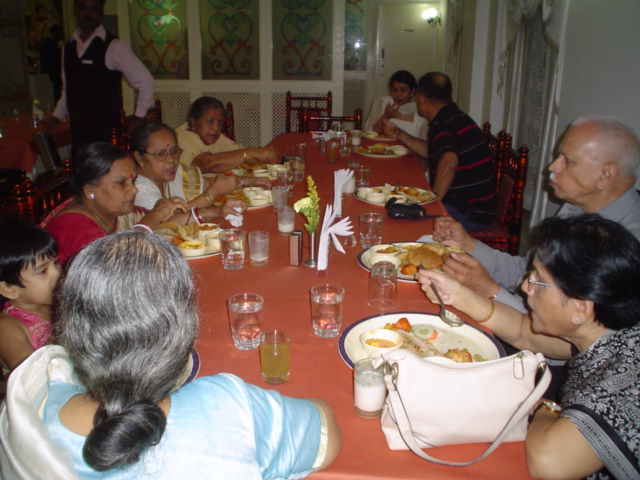 Reunion dinner batch 1956
Uploaded on 16.8.2009
Sub : Tribute to Nalina-di
Felt very sad to hear about Nalinadi's death.
In the 11th Std., I had taken up,(if you remember,) a 100 marks subject of Indian Administration and Civics
plus I had Social Studies(history+geography+civics) as one of my subjects and Higher Level English.

All of those subjects except Geography(taught by Miss Gandhi)were taught by Nalina Di. So, as a student in the 11th standard, I had maximum contact with Nalina Di. Everyday, at least 3~4classes
were taught to me by Nalinadi. It was she,who infused in me the love for English language and history. Her teaching method was excellent.
She was very thorough and quite a perfectionist. A truly dedicated teacher.In fact, my parents always wondered how is it that an efficient and good teacher like her teaches at Bangla school, a comparatively low profile school. They always thought that she deserved to teach in some high profile school like Bombay Scottish or Don Bosco.

I wonder, if ,all of you know, that ,she could read and write Bengali.

Outwardly,she may give the impression of a stern and strict person,but she was full of humour
and light-hearted conversations.

I wonder,how many of you know that Nalinadi's father died very young leaving some 4~5 children.
Nalinadi being the eldest the family responsibilities fell on her shoulder. And she managed it very well.
Two of her brothers are IIT graduates

Believe it or not,my husband Subhash lived in the same building as Nalinadi till 1955. So, he knows the
family very well. And he always says that Bangla School is very lucky to have a teacher like Nalinadi.
He praises the family and says that the whole family is an ideal family-well-educated,well-mannered.

Respected Nalinadi,we bow our heads before you with due respect and our pronam to you.
May your soul Rest in Peace. We offer our heartfelt condolence to the family.

At this point, I am in Plano,Texas,with my daughter Suhrida. I wish I was in Mumbai . I could have
paid a condolence visit to the family.
Nandita Ketkar ( 1964 )
Uploaded on 7.5.2009

Feeling nostalgic

I got into this site by sheer conincedence and landed up discovering a lot about this school. I discovered facts that I was never aware of while I was a student of this school. I just briefly looked at the 1984 batch names and remembered all those moments I spent with them. To be very frank I never had many good moments to talk about but I just felt nostalgic about every thing. I must thank those people who are behind this inititive and must say that they have done and still doing a great job by bringing back those lost moments. Today when I look back I do realize that I have got a lot from this institution and whatever I am today, a lot of it is owed to this school. I can remember few names like Rama di, Shiela Di, Kamala Di, Helena Di, Rekha Di the list can just go on. I will be very grateful if someone can provide some contact details of my friends like Sudhanshu, Umar Khan, Gaurang Shah, Dilip Adhikary may be any one whom I can contact. Wish you all the best and many regards

Biswajit Bhattacharya ( 1984 )
Posted on 13.1.2009
It really gave an uplifting feeling to think that 'Johnson and Johnson' has found our school good enough to make such a large donation. My heartiest congratulations to you all for the time and effort you have been spending which is now seeing results. Particularly Parthoda's consistent efforts and the results it has shown, is a big boost for everybody's morale. Hope this is only the beginning of good times for the School development.
- Dr. Anurupa Maitra

Posted on 8.1.2009
I have some very fond memories of our ganer sir Shibu Dutta who we would harass no end because he was too good-natured to raise his voice and control us. He had a vast repertoire of Rabindra Sangeet and the story goes that he had studied at Santiniketan and had also met Tagore as a young boy. If my memory serves me right, he must have been in his Nineties when he passed away. God rest his soul in peace.
- Dr. Shoma A Chatterjee
Posted on 7.1.2009
Both Debu Pakrasi and Shibu Datta the music teacher stand out through the mist of time. Debu as a shy junior when I passed out in 1956 and Shibu Sir who choreographed the school functions. I remember meeting Debu in 1966 on a visit to the school when he was the new teacher. Life is short and credit to both that they touched so many and left their mark.
- Venk shenoy ( 1956 )
Posted on 6.1.2009

Debu-da: a class apart!

Debu-da, first and foremost, was a wonderful human being. He was full of wisdom, enthusiasm, wit, and compassion. And this convergence of fine qualities within a single personality paved the way for his remarkable success as a teacher.

I knew him closely as an elder-brotherly next-floor neighbour much before he was suddenly ushered in as a teacher in our Bangla School . I remember having a slightly difficult time adjusting to our new equation, while, being a flamboyant extrovert, he handled it much better. In private, he used to call me "khokon-anando" making me feel like a Ramkrishna Mission monk in the making…As a result I was morally obliged not to ever shock him with glimpses of what I really was.

With Debu-da, I have played barefoot football, gully cricket (doesn't mean I used to field at the gully region), chess, carrom, card, and many other brain-teasing indoor games, and have had many a stimulating discussion on almost any subject under the sun, (and under the carpet). In fact, my memories are loaded with more of these experiences rather than those time-tabled classroom hours.

I wish our country produces more teachers like Deboprosad Pakrasi, especially in the current scenario, when the great and noble profession of a teacher needs to reclaim and enhance its eroding status and image. His blessings might do the trick!

-Ashok Roy (1964 alumnus)
Posted on 5.1.2009
It is sad indeed that Debuda has left us. I remained ever grateful to Debuda to make 'fundas' of Maths so clear to me. He was my maths teacher in STD VII. Under his loving and motivating guidance I had consistently scored 25/25 in 90% of the weekly tests. I had even visited him during my short career stint at Kolkata during 1991 to 93. So happily he welcomed me. - Uttam Bardhan

Posted on 5.1.2009
I am saddened by the untimely demise of Mrinal Dutta and Debu Pakrasi. Debu was three years my senior when I joined BES in standard VIII. He was one of the handsomest guys in the school and knew it well too though did not misuse its power over girls specially when he became a teacher in the same school. He became a friend much after both of us had quit school through Little Pioneers where he was an active member. He was straightforward and forthright and as my sister informs me, perhaps the best Science and Maths (?)teacher the BES has ever had meaniing no insult to the other teachers who came before and after him. I never ever met him in Kolkata which is just one of the tragedies of life. May his soul rest in peace and may his family draw the strength to survive this loss with the spirit to live on.
- Dr. Shoma A Chatterjee
Posted on 5.1.2009

Debuda.....a friend, philosopher and guide

These are the immediate thoughts which came to my mind when I was informed yesterday about the shocking and most untimely demise of our beloved DEBUda who had captured our little hearts at the most formative stages of our life in B.E.S.High School.

Debuda`s father Late Rai Bahadur Pakrasi played a very important and prominent role in our School's managing committee and used to be the most visible, distinguished and respectable Managing Committee member who took utmost interest in every School functions ranging from Sports to cultural thru` Saraswati Puja celebrations and Annual Prize Distributions.

Debuda was my senior in school and all I can remember about him as a student was that he was never known for any thing outstanding and had always been a very nice, disciplined, well behaved student for whom in Bengali there is one appropriate description " SUBODH BAALAK"

When we were in 7th. Standard, our Science Teacher Mr.Con de lac left our school and a young, handsome and energetic Debuda was ushered in to shoulder one of the most important responsibilities of teaching Science subjects to us.

Though inexperienced and fresh from college after his Graduation, he took up the challenge most admirably and soon proved himself to be the most valuable and popular teacher in our entire school. Around that time, most of our faculty members were elderly persons and the veteran Dasguptada was also showing signs of age when Debuda filled up the vacuum between students and the teachers by his easy approachability and kind understanding of the students` psychology. As the days passed on, Debuda soon transformed himself from a popular teacher to one of the BEST teachers of the school and also the most admired person in the school premises.

Debuda served our school for about 5-6 years and then proceeded to Kolkata to persue his career and family interests. Today , I feel very embarrassing to admit that we have not been able to keep in touch with this Wonderful Person who had helped molding our lives and character during the most formative and important phase of our lives.

Debuda.... while praying for your soul to rest in peace, I can proudly claim that whatever we have achieved in our lives, we owe them to you and you will continue to live in and rule our minds for ever.

- Dileep Chatterjee ( 4.1.2009)
Posted on 23.11.2008

It is always people like Biren & Sisirkona Sen who put effort behind their convictions that lead the way for others - conversely those waiting for confirmation of rewards and glory before starting will wait for ever.

Same for G.C Pain - I had the privilege of being there on his first day at BES High School as we lined up for the morning incantation of 'Asoto-ma........' . That was at the commencement of the new building.

Mr Pain had a deep understanding of human behaviour and motivation and I am sure we all were helped in our own ways to develop our potentials. Having been in contact on and off through his post retirement locations in Kalighat, Jalpaiguri and Jadabpur, Mr Pain kept his sharp and analytical mind to the last and one could have a vigorous 'Torko' on contemporary issues, age being no barrier.

Having come to BES High School in 1951 from Jagabandhu Institution Ballygunge with its fiery Head Master who believed in controlling his charge by terror of his cane, a trait copied by some of the teachers, the difference in Mr Pain's approach was a total contrast, one might say uncharacteristic - as caning was made illegal in England only in the 1980s and 1990s, some might say a retrograde step

Regards.

-Venk Shenoi
From Shri Prakash Rao ( USA) dated 25.9.2008

I have been reading up on your emails on a regular basis. I can only attribute my reconnection to BES as serendipity; for some reason last year I coincidentally (Googled for BES) found out about the Alumni website.

I am particularly pleased to be able to remember some names from the past; especially that of Mrs. Sheela Roy, who was my 9th Grade Class Teacher. Please extend my congratulations to her on her promotion to Principal of the school.

My felicitations also to the Trustees of the School and its cadre of Nurturing Teachers for sustaining this school for 75 Years. My Best Wishes for its continued success in graduating Outstanding Students who will make a difference in this world in their own special way.

As a note of interest, my brother Mr. Ramesh Rao (copied on this email), my sister Mrs. Rama Rao and I, had discussed some ideas a few years ago, to "give back" to the school in our own small way. All three of us studied at BES and graduated in 1973 and 1975 respectively. This Platinum Jubilee celebration offers us an opportunity to formalize some contribution. In fact, my brother is coordinating with other Alumni that we are in touch with to discuss possible ideas with Mrs. Sheela Roy. In addition to the eventual idea that my brother helps sponsor, of personal interest to me is to find ways to sustain Sanskrit teaching in the school, and maybe expand it. That was one of the main reasons that my parents chose BES for all three of us to attend. We continue to benefit from it; it is a matter of pride for us when we are able to read the rich scriptures and appreciate the nuances of the language.

I will unfortunately be unable to attend the Platinum Jubilee events, much as I would like to meet up with "old" friends; it would be a real test of my memory to associate the names, faces and perceptions we had of each other when we attended school.

I noticed that you intend to honor toppers from all these years. I feel rather fortunate and humbled to be included in such a list. Circumstances in 1975 and in the preceding school years conspired in my favor, for me to be able to make it to this list. I truly believe that in my 1975 class of 41 students, some of my dear friends were a lot smarter than me, and deserving of Topping the Class. I would like to dedicate the honor to my Class of 1975 for making my 5 Years at BES so memorable.

I am keen to visit the school next time I am in India. In fact, I would like to contribute some of my time to speak to students if possible, or in other meaningful ways, on my next visit.

This Alumni is about the most active of all the ones I am a part of. I appreciate that it is a lot of work, sometimes underappreciated or even thankless. Keep up the good work.

From Smt. Shoma Chatterjee dated 11.8.2008

This just to inform everyone at Alumnibes that I have finally acquired
my Ph.D. Degree today after my final viva in History (Cinema.) I have
yet to get the official degree and only then can I use the title after
my name.
I have also won the second prize in an international essay contest
floated on the NET by Human Rights Defence.org on EUNUCHS IN INDIA.
Last year, I won the Second Prize in the Golden Jubilee Short Story
Contest floated by Sahitya Akademi for my translation of a short story
in Bengali by Shirsendu Mukhopadhyay. This was some time ago but I had forgotten to inform you. I am 65 now so this is no age to do such
studies but then, it helps me keep alive and kicking.
Best wishes.
SHOMA-DI


From Smt. Neeta Nath dated 14.8.2008

Hat's off to Shoma di. You ARE One and Only.

Growing up in Bombay we knew it when our elders talked about your From great potential. Anyone who reads this will marvel at your great story.

I was about to send you a note of Congratulations also to add - treat the school one more time to your 'Palki Chawlay' in your saffron attire....but your email came before that. My mother used to rave about your performance for a long time ( may be she still remembers).

Wish you continued success and a Heartfelt Congratulations.

Regards,

Neeta

From Dr. Manojit Lodh dated 13.8.2008

Dear Shomadi,
My heartiest congratulation to you .
You are a remarkable lady and indeed we are lucky to have known you. Your achievement just goes to prove that hard work and dedication can always make a change , but being like you -- Shomadi -- always helps .You have grown stronger with every bit of pain .I don't believe women are weaker sex -- they rise to every occasion when necessary.
Future is rainbow of beautiful tomorrow when you hold a dream in your heart . You are on your way to great things
We raise our glasses and give you a standing ovation
Best wishes and regards
Manojit


From Shri Ashok Roy dated 13.8.2008

Dear Shoma-di!
Heartiest congratulations on your spectacular achievements!
After all the adulatory messages that I just read, what else can I add?
Yours is perhaps the greatest Out-Law Saga of the Wild East!
-Ashok Roy

From Smt. Sarbani Roy Chowdhury dated 13.8.2008

Dearest Shomadi,
CONGRATULATION! You are a SUPER LADY. Do not talk about age at all. Personally and as an Alumni I am so proud of you that I have no words to express. Looking forward to see you in person again, and get inspiration from you.
My regards and pronam to you.
Sarbani.

From Shri Subrata Burman dated 13.8.2008

Dear Somadi

Congratulation Great news and Great inspiration for everybody

This kind of news helps us to keep going and keep our learning curve rising rather than plateauing and finally going down.

Johar (Subrata Burman )

From Shri Venk Shenoi dated 13.8.2008

Thanks for letting us know Prodyut, Achievement when you are young comes naturally but one based on life-learning is especially to be proud of - what is more Shoma is much better equipped with her life-experience to interpret the issues much more meaningfully than someone who has just got an academic qualification.

There is a saying - the day you stop learning something new, you are dead. Best wishes Shoma and Prodyut.

Venk

From Shri Bishwanath Basu dated 11.8.2008

Hi Shoma-di,
" C O N G R A T U L A T I O N S"
We are very proud of you on your achievement.
I am not sure if you will remember me. I am Bishu (Bishwanath Basu), originally from Parel, but presently I live in Bandra. Passed out in '63.
Warm regards and best wishes.
Bishu

From Smt. Rita Majumdar dated 16.8.2008

Dear Shoma-di,
What wonderful news, my warmest congratulations on your splendid achievements. We have always been proud of your intellect, determination and dedication. I bow my head to you in deep respect and admiration and wish you every good fortune in your future endeavours.
Reeta